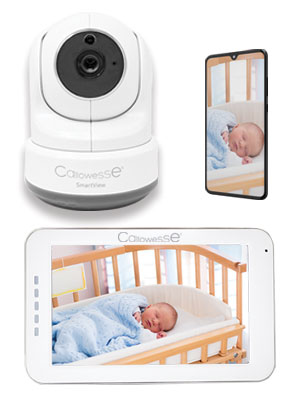 Camera Baby Monitor with Touchscreen Parent Unit & Wi-Fi Connection
The Callowesse SmartView Video Baby Monitor allows you to monitor your baby from your smartphone or parent control unit monitor. The Callowesse SmartView packed full with unique and advanced features for peace of mind including; HD imagery for a clear view, Wi-Fi connection and free app, pan, tilt and zoom and many more…
The tablet styled SmartView monitor can be wirelessly charged using the rechargeable dock. Going out? You can view your little one from your smartphone, using the free app.
5" colour touch-screen control unit

Pan, scan, tilt and zoom

Wi-Fi connection and free app

4 camera option and split-screen availability on the parent control unit

Night vision camera

VOX energy saving

Rechargeable parent control unit – up to 5 hours

Wall mounting kit available for camera

What's in the box?
1x SmartView Monitor

2x SmartView Cameras 

1 x Wall-Mounted Bracket

Multi-Language Manual

2 x UK Plug Power Adapters

Screws and Wall Plugs

Wireless Charging Dock
---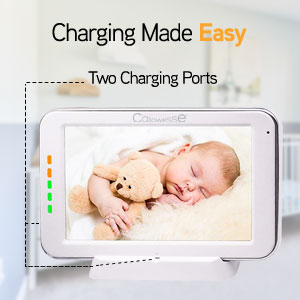 Wireless Charging Dock
Included in the SmartView pack, you will receive a charging dock. This will allow you to wirelessly charge the SmartView, meaning you do not have to worry about so many loose cables. It also poses as a nightstand, making it perfect for viewing your baby whilst in bed.
Please Note: The charging dock itself requires to be plugged into the mains, using the provided power adapters.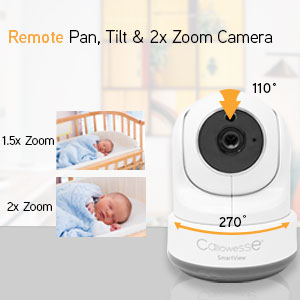 Remote Pan, Tilt & Zoom Camera
With the SmartView you are able to remotely pan and tilt the camera to get the best possible view of your baby, all with a simple touch of the screen. 2x digital zoom is available also if you want a closer look at your beautiful baby sleeping.
All these features are also available to do whilst viewing from a smart device. Drag your finger across the screen to pan or tilt the camera and pinch to zoom.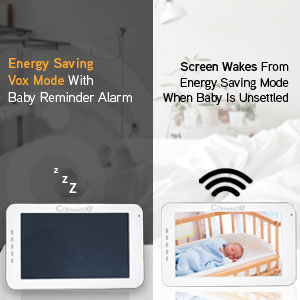 Energy Saving VOX Mode Noise Detection
With Vox mode activated, the screen will automatically turn off when no noise is detected from the camera, helping the monitor not use up all the battery so quickly. Once a noise is detected from the camera, the monitor screen will turn back on, and the sound indicators on the side of the monitor will light up.
You are able to set the VOX sensitivity to detect low or high sound levels.
---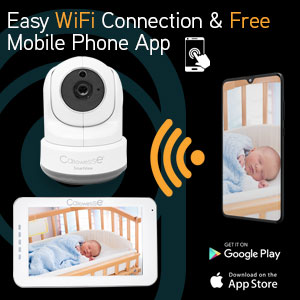 FREE Mobile Phone App
To view your little one on a smart device, you will need to download the free app available in Google Play and the App Store. To ensure a strong connection, ensure the camera is located within 120m (in clear line of sight) of your router. You will then have full control of the camera from your smart device, however you will still be able to view the camera via the parent unit.
During Live View on the app, you can take a snapshot of your little one and can view these in the snapshot files.
Search SmartBabyCam or scan the QR codes provided in the instruction manual to download the app.
*Phone Not Included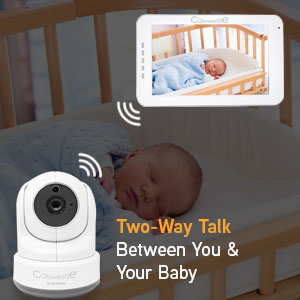 Two-way Talk Back
The two-way talk back feature allows you to communicate remotely to your little one through the monitor to the camera. Simply press and hold the designated button on the device and talk to soothe your baby. You are able to adjust the volume of sound projected from the camera, to ensure it is at the right level as not to alarm your little one.
Two-way talk back is also available through the smart app.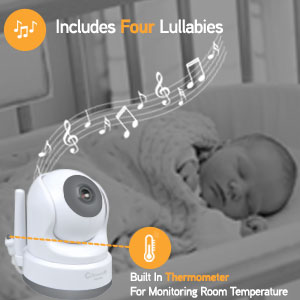 Soothing Lullabies & Room Temperature Monitoring
3 soothing lullabies with option to shuffle all, are built in to calm your little one. Perfect for drifting them off to sleep.
SmartView is equipped with a temperature monitoring feature, which allows you to roughly measure the temperature of your little one's room. The device allows you to set an alarm in case the room temperature gets too cold or too hot.
Please note: the temperature reading may not be fully accurate and should not be relied upon. We do recommend purchasing a separate temperature monitoring device. SmartView is made mainly for its video viewing capabilities.
---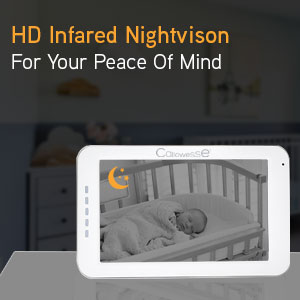 Ultra Clear Nightvision Viewing
The SmartView is equipped with crystal clear night vision viewing. This feature will automatically turn on, when the viewing area becomes too dark for standard viewing. This provides you with peace of mind knowing you are able to keep an eye on your little one throughout the night.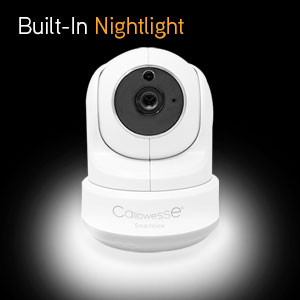 Soft Nightlight Feature
Within the SmartView's camera base is a fitted nightlight, that you are able to turn on and off via the monitor unit. It gives off a soft glow to ease your little one during night time.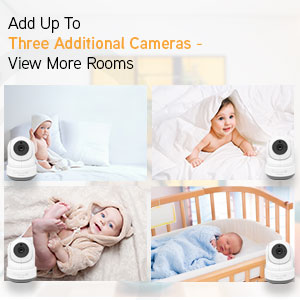 Single / Split / Quad Viewing (Add up to 3 Additional Cameras)
SmartView allows for viewing of split screen and quad viewing when multiple cameras are connected. Meaning you are able to watch over your family, making sure they are safe and sound.
Please Note: Only one camera baby audio is heard at one time to save confusion. You are able to select which camera to listen to, or alternatively scan between them all. (Additional cameras are sold separately, unless purchasing a multi-camera bundle)