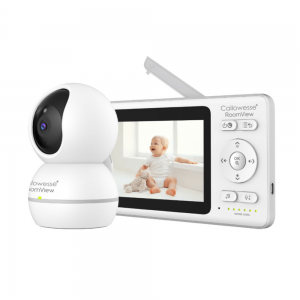 Callowesse RoomView Video Baby Monitor
RoomView is equipped with a 4.3" digital LCD monitor. It is super easy to install and use – simply turn on the camera and monitor and you are ready to go.
Thanks to its motorised pan, tilt and zoom capabilities, RoomView allows you to get a complete view of your chosen monitoring area. Its 300m range means that you can move around the house freely, without the danger of being out of range.
RoomView has been designed specifically to ease your parenting journey and allow you to relax.
4.3" digital video baby monitor with 300m range and LCD colour display

Pan, tilt zoom capabilities and infrared night mode

Energy-saving VOX mode, temperature and sound alarm

5 built-in lullabies and talkback mode

Can connect up to 2 cameras

What's in the box?
1 x RoomView Monitor
1 x RoomView Camera (Unless buying 2 camera bundle)
1 x Wall-Mounted Bracket
Multi-Language Manual
2 x UK Power Adapters
2 x USB Power Cables
Screws and Wall Plugs
Reset Key Pin
---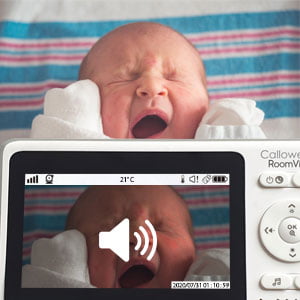 VOX Mode Noise Detection
With VOX Mode activated, RoomView will detect when your baby cries and will alert you with an acoustic alarm. You are able to set the level of noise detection from low to high. This mode helps prolong the battery life, as the screen can sleep, but once a noise is detected it will turn back on and the alarm will sound.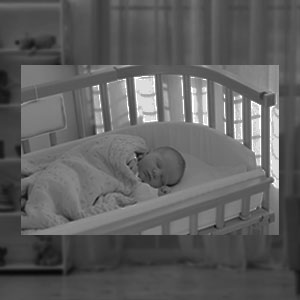 Automatic Night Vision
The RoomView is equipped with crystal clear night vision viewing. This feature will automatically turn on when the viewing area becomes too dark for standard viewing. This provides with you with a peace of mind knowing you are able to keep an eye on your little one throughout the night.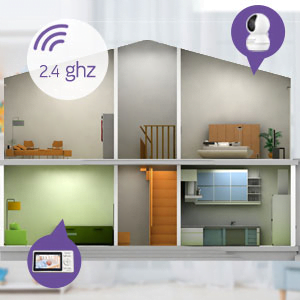 1,000ft Long-Range Viewing
The RoomView monitor and camera are able to connect with each other up to 1,000ft (300m) in open space. This means you are able to move the RoomView portable monitor around your home without the worry of disconnecting.
---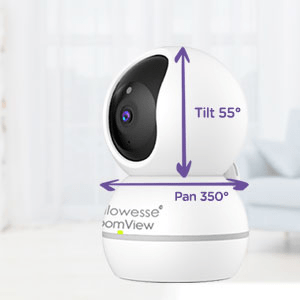 Pan, Tilt & Zoom Capabilities
With the RoomView you are able to remotely pan and tilt the camera to get the best possible view of your baby. 2x digital zoom is available also if you want a closer look at your beautiful baby sleeping.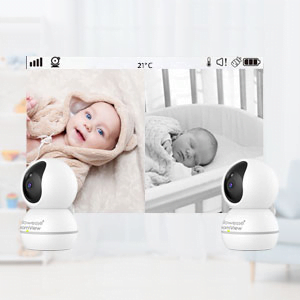 Split Screen Viewing
RoomView can connect up to 2 cameras*, allowing you to view multiple rooms around your home when needing to watch more than one child. When 2 cameras are connected split-screen viewing will automatically enable, allowing you to view the footage from both cameras simultaneously. You will then be able to select which camera audio you wish to hear. Automated scanning of cameras is not available with this monitor.
*Additional camera is sold separately unless 2 camera bundle is purchased.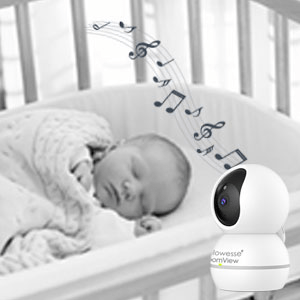 Soothing Lullabies
5 soothing lullabies are built in to calm your little one. Perfect for drifting them off to sleep.
---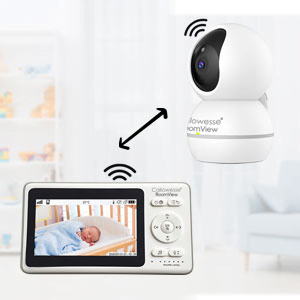 Two-way TalkBack
The two-way talkback feature allows you to communicate remotely to your little one through the monitor to the camera. Simply press and hold the designated button on the device and talk to soothe your baby. You are able to adjust the volume of sound projected from the camera, to ensure it is at the right level to not alarm your little one.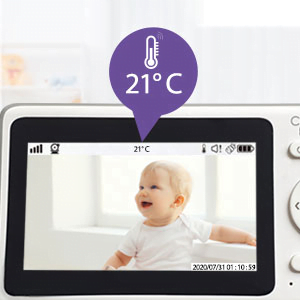 Room Temperature Monitoring
RoomView is equipped with a temperature monitoring feature, that allows you to roughly measure the temperature of your little one's room. The device allows you to set an alarm in case the room temperature gets too cold or too hot.
Please note: the temperature reading may not be fully accurate and should not be relied upon. We do recommend purchasing a separate temperature monitoring device. RoomView is made mainly for its video viewing capabilities.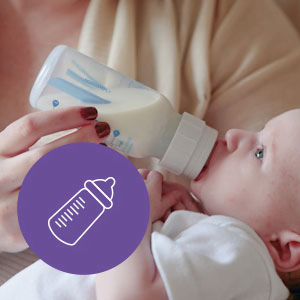 Parent Reminder Alarm
The Parent Reminder Alarm allows you to remind yourself when it is time for your little one's feed or their other needs. RoomView allows you to set up to 4 alarms. The bottle icon will appear at the top of the viewing screen when the alarm is set.